Tachometer / Stroboscope Shimpo DT-315A
Tachometer / Stroboscope Shimpo DT-315A
Tachometer / Stroboscope Shimpo DT-315A
---
Product Description
Stroboscope berfungsi sama dengan Tachometer
Digunakan untuk mengukur kecepatan putaran (RPM) dg lampu Xenon Flash

Battery Powered Stroboscope




Flash Range: 40-35,000 RPM/FPM
Portable, highly stable and accurate, industrial-quality tools for non-contact RPM measurement, inspection and observation of moving parts by "freezing" or "slowing down" the action.
Features
Highest accuracy and most stable flash rate
Accepts external trigger input and provides synchronizing pulse output
Easy-to-read LED display
Phase shift for best view and flash photography
Easy-to-operate controls
Flash rate control
Detachable pistol-grip handle
Instant double and half-rate flash selection for error-free reading
Provides 12 V DC power for external sensors
Optional Carrying Case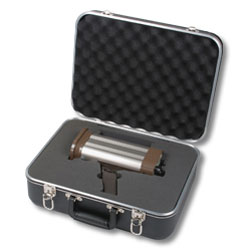 Hard plastic carrying case with custom molded insert allows for safe storage and easy transportation. Provides storage space for the DT-315A, AC adapter, and accessories.
Find Similar Products by Category